Quick Links
Skip to main content
Covington-Douglas Public Schools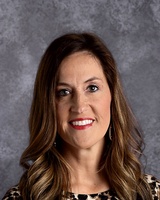 Tiffany Smith
Hello! My name is Tiffany Smith. I graduated from Covington-Douglas in 1997. I was active in basketball, track and cheer-leading. I was a member of FHA, NHS, Oklahoma Honor Society, Spanish Club and Student Council. I have so many fond memories of my days at C-D as a student and feel very blessed for this to be my 13th year as teacher here!



After high school, I attended Oklahoma State University for 2 years majoring in Business Education, The University of Central Oklahoma for 1 year and finished up my Bachelors of Science degree in Accounting at Northeastern State University in Tahlequah. After graduation I worked for The Williams Company in Tulsa as an oil and gas accountant. When I moved to Covington, I took a job with Continental Gas as an oil and gas accountant. I decided that education was really my passion and decided using my Business Education certificate was what I was ready to do. In the fall of 2004, I took a job at Billings as the Computer/Yearbook Teacher. In the fall of 2005, I had the opportunity to take a job at Covington and was very excited! While teaching in Covington I earned my Masters of Education degree in Instructional Media from the University of Central Oklahoma. I am currently the Library Media Specialist, Computer Teacher and District Technology Coordinator.



My husband, Brian, and I have been married for 17 years. Brian is also a graduate of Covington-Douglas and both of our parents still reside in the school district. We have two sons. Parker is in the 8th Grade and Ford is in the 5th Grade.